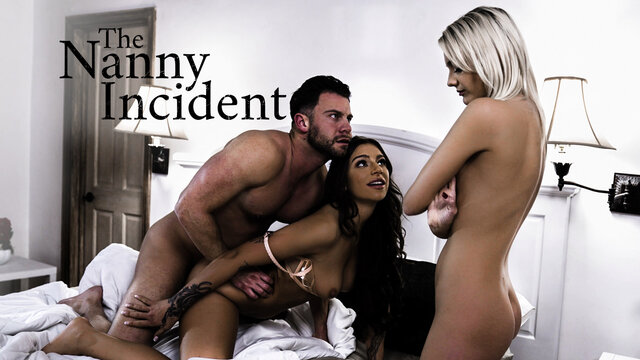 Description:
After spending some time as a stay-at-home parent, Mindy (Kenna James) has decided to go back to work and needs live-in help. Her husband John (Seth Gamble) works from home but is very busy with his career, and dismisses his wife's ambitions as frivolous. This has caused tension between the couple, but Mindy has still gone ahead and hired a nanny, Liz (April Olsen)...
Several weeks later, Mindy returns home from work, looking exhausted. She enters the kitchen to find Liz cooking dinner. Her little angel is napping, and the house is clean. Mindy is grateful that Liz seems to be working out so well as a nanny. Then John shows up, and he seems to be in a very good mood. He greets Liz teasingly, and they start acting buddy-buddy towards one another. Mindy is taken aback. She's glad her husband is finally making an effort to support the idea of having a nanny, but the whole thing feels unsettling.
John and Liz then want to show Mindy a dance they choreographed earlier in the day to entertain Mindy's little angel. Liz asks Mindy to film it on her phone for social media. Not knowing how to react, Mindy agrees. She films them as Liz enthusiastically jumps into John's arms and he lifts her in the air. As John lifts Liz, his hands clearly grab her ass. Mindy notices and is about to say something when the nursery monitor goes off, interrupting the moment.
Related videos