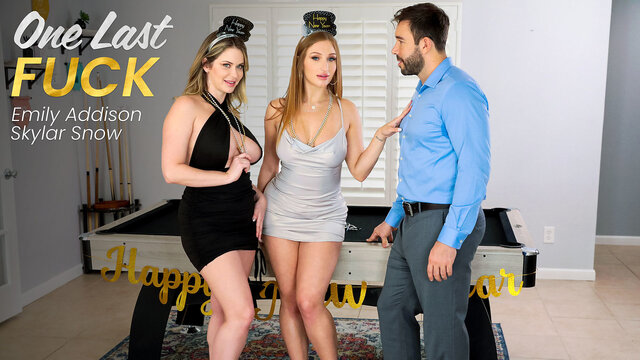 Description:
Emily Addison and Skylar Snow have made a new years resolution to be celibate, but it's not 2022 quite yet. The girls decide to have one last fling with each other and their favorite boy toy, Will Pounder. It takes them time to deck themselves out in their NYE attire since they can't keep their hands and mouths off of one another! Once they're all dressed up, it's just a matter of waiting for Will to arrive for what he thinks is a big party.
When Will finally shows up, he's confused about where everyone else is. The girls explain that they've only got a little bit of time left to get in all the orgasms they can before the clock strikes midnight. It's a lot of pressure, but Will has to agree. The girls instantly make it worth his while.
Reaching out, they palm Will's cock through his pants. Finding him nice and hard, they spend some time stroking and then go about exchanging heated kisses. Of course both Skylar and Emily's big boobies come out as they all explore each other's bodies with their hands and mouths. Eventually, the girls lead Will to the bedroom so they can have fun while they still can.
In bed, Emily and Skylar make out as they let Will have his way with their massive jugs. They eventually get him on his back so they can have some fun, too. His cock is ready for action as they spring him free of his pants. Skylar takes the first round of blowing Will's fuck stick while Emily keeps on working him out of his clothes, but both girls take their time enjoying that hardness and sucking Will's balls. Skylar delivers the first titty fuck, followed by Emily.
Related videos