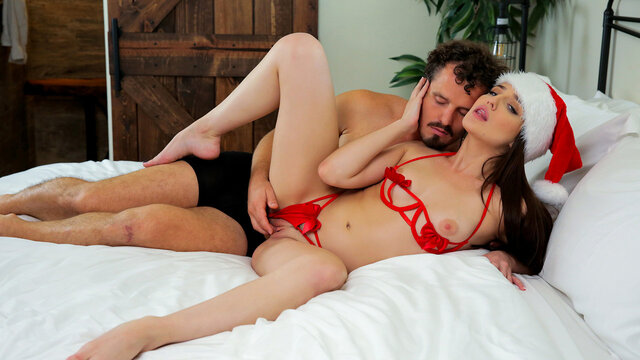 Description:
Sometimes couples can conspire to make their lovemaking way more fun and intimate with just a few props. Aubree Valentine does her part by changing into some sexy red lingerie topped with a Santa hat. Robby Echo completes the scene by appearing with some mistletoe, the perfect excuse for some sensual Christmas delight.
Crawling into bed with Aubree, Robby extracts the price of his mistletoe as he bends in for a kiss. One kiss turns into many as the couple settles in for a languorous makeout session. As their lips continue to meet again and again, their hands are also in constant motion as they re-learn each other's sweet curves.
Robby's hands are everywhere on Aubree's body, palming her pussy, squeezing her titties, and fondling her nipples. Pulling Aubree's thong aside, Robby slides his fingers up and down that slippery delight. Then he arranges himself between Aubree's thighs and dives in for a full on pussy feast. Aubree encourages it by getting Robby on his back so she can straddle his head and ride his tongue. That even lets her lean back and stroke him off as he keeps on making her moan.
Aubree finds herself on her back once again with one foot high in the sky as Robby slides himself home. Her landing strip pussy eats Robby's cock right to the balls as he dives nice and deep. Keeping her shoulders on the bed, Aubree wraps her legs around Robby's hips to lift herself up for a different and salacious angle of penetration.
Related videos