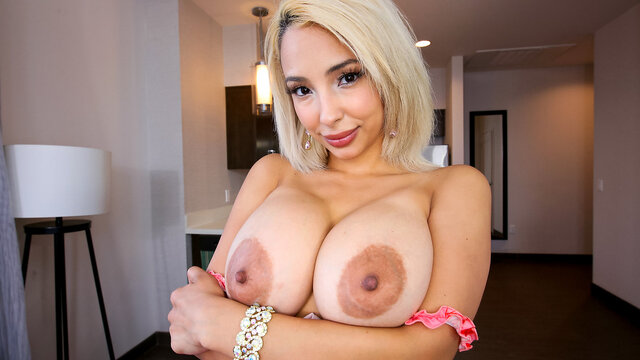 Description:
Lauren Pixie got into a huge fight with her husband because he caught her cheating. She's been kicked out of their house with only a suitcase to her name. She doesn't know where to go, so she heads to her stepson's place. Tony isn't happy with his soon to be former stepmom, especially when Lauren confesses that she thinks she's going to stay with him. Tony tells Lauren no way, but Lauren has other ideas. When she can't talk Tony into letting her stay with her words, Lauren decides to let her body talk. She puts her hands on the straps of her dress to play with her boobs, much to Tony's dismay.
It is clear that Lauren will do anything to stay with Tony. She keeps on flaunting those titties, showing some nip and then the whole thing. Enticed by those big sweater puppies, Tony eventually lets Lauren take his hand and put it on the goods. His resolve wavers, but Lauren puts it on the table that Tony can fuck her whenever he wants if she can stay. She seals the deal by lifting her miniskirt and showing off the way her ass looks in its g-string. It takes a little bit more coaxing, but eventually Lauren gets her stepson to the bedroom where she shows him that she's definitely worth keeping around.
Lauren begins their fuck fest with a striptease out of her scant clothing. She gets down on her knees and demonstrates that she can suck like a vacuum and that she absolutely loves the cock in her mouth. She is thorough in her ministrations, going to town on Tony's balls as well as his hardon. Lauren is putty in Tony's hands as she gets on her back and welcomes him inside. When she gets on her hands and knees, Lauren demonstrates how good she can be in bed as she jiggles and bounces back to meet Tony's strokes. She takes control as Tony gets on his back with his stepmommy riding in reverse cowgirl above him. Watching that ass in motion and feeling the way Lauren's tight puss squeezes him, Tony can't help but give her a big fat creampie. With his jizz dripping out of Lauren's pussy, Tony finally agrees to let her stay for as long as she wants.
Related videos