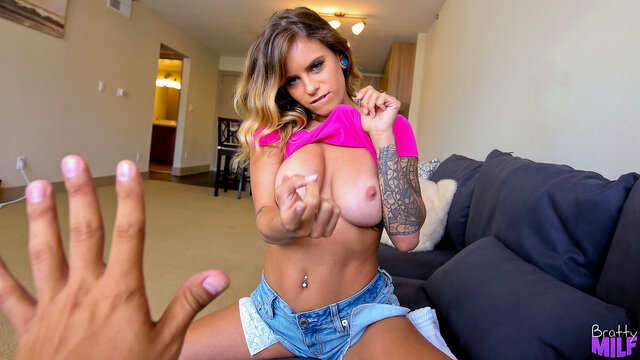 Description:
Tony can't believe that his dad and his stepmom have gotten rid of his television and all his video games! His dad is still out when hist stepmom, Jesse Pony, arrives home. She tries to explain why they've made this decision, but Tony isn't hearing any of it. She won't even give Tony his phone back. When he asks about what he's supposed to do, Jesse tells him to make friends or get laid. Tony claims he's not good with girls, though. Jesse doesn't like hearing that, so she commits to helping him out while also helping herself out since Tony's dad has been totally neglecting her.
Tony tries to resist his bigtit stepmother's seduction, but Jesse isn't taking now for an answer. She claims that if Tony doesn't give it to her, she'll tell the whole family that he's been harassing her. What choice does Tony have but to let her have her way? Jesse gives him a sneak preview as she pops those magnificent boobs out of her shirt and puts his hand on her sweater puppies. Beneath Tony's touch, Jesse's nipples get diamond hard real fast. Dropping to her knees in front of her stepson, Jesse pulls Tony's dick out and opens wide to suck his balls and then stroke and slurp at his dick. There's even a titty fuck to really make sure Tony is committed to doing this.
When they relocate to the bedroom, Jesse climbs onto the bed with her pants down so Tony can really admire all the goods. Flipping onto her back, she spreads her thighs to invite Tony to spread her pussy juices and then slide on home. Vocal to the max, Jesse lets Tony know just how much she loves that big dick. She gets onto her hands and knees and spreads that big ass wide open to open herself up for Tony to bang her in doggy. Then Jesse shoves Tony onto his back so she can ride the stiffie until she's moaning. A reverse cowgirl booty bouncing is just what Jesse needs to cum and then urge Tony to cum inside her, too. He delivers with some spankings and a creampie, giving Jesse a treat to lick clean from her fingertips as she promises they'll do this again same time every week.
Related videos